Internet Church is available so you can listen to our Internet church service from home if you can't leave home. We invite you.
To get to the internet church please click here.


The book The Good Shepherd Calls: An Urgent Warning To The Last Days Church is available to purchase for immediate shipping.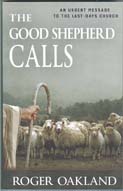 1copy - $14.95

3 Copy Pack - $45.00

10 Copy Pack - $117.00

For larger quantities please go to Lighthouse Trails